What does Little Pink Cloud do, then?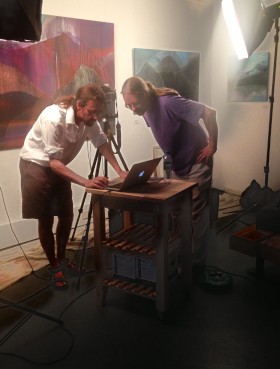 photo and paintings: Tess Recordon
We make giclée prints for local artists. We are in Cambridge, England. We can handle every part of the process from photographing your original work of art to making the final print.
At every stage we measure. We measure our lights, we measure our cameras, we measure our printers. We do this so that we can predict the accurate reproduction of your original. We can't guarantee that the colours of a print will be visually exactly the same as your original because some paints, in particular acrylics and oil paints, can produce colours that are outside the gamut of almost any printing process. But we can say that we'll get close.
We can photograph your work in your own studio, or you can bring it to our premises. We are also happy to print your own photographs, but if your original is a painting we'll probably get more accurate colour if we photograph it ourselves.
We also have facilities to reproduce photographs from prints, negatives or glass plates (such as autochrome plates).
Pricing
Photography
We can photograph your pictures in your studio or ours. For photography in our studio, please contact us for pricing. We charge £40 per hour when photographing your pictures on your site. Since it takes somewhere between 60 and 90 minutes (depending on local conditions) to set up and take down the lighting and camera, it will cost less per picture if you have several photographed at the same time. Once set up, the photography only takes a few minutes per picture if they are all the same size. Different sizes need different lighting, so that adds to the time.
We print on a wide range of beautiful paper stock.
Paper type
Size of sheet
A3
A2
A1
A0
Innova Ultra Gloss canvas


380gsm

£ 24.00
£ 32.00
£ 44.50
£ 83.00
Canson Infinity Baryta Photographique


310gsm

£ 19.50
£ 26.00
£ 45.50
£  PoA
Epson Hot Press Natural


300gsm

£ 16.50
£ 21.50
£ 37.00
£  PoA
Somerset Enhanced Velvet


225gsm

£ 16.50
£ 21.50
£ 36.50
£  PoA
Epson Hot Press Natural (Sheet)


330gsm

£ 15.00
£ 23.00
£  PoA
£  PoA
Hahnemühle FineArt Paper Bamboo (Sheet)


290gsm

£ 14.00
£ 21.50
£  PoA
£  PoA
Premium Glossy


260gsm

£ 11.50
£ 14.00
£ 22.00
£  PoA
Premium Semimatte


260gsm

£ 11.50
£ 14.00
£ 22.00
£  PoA
Colourbyte ContractPROOF™ Semi Matte 250gsm (42″)


250gsm

£ 11.50
£ 14.00
£ 19.00
£ 32.00
Doubleweight Matte


180gsm

£ 11.00
£ 13.50
£ 18.00
£ 30.00
Enhanced Matte


192gsm

£ 10.00
£ 12.00
£ 18.00
£  PoA
Xativa Tyvek Banner


105gsm

£ 9.50
£ 12.00
£ 17.50
£  PoA
Colourbyte Matte Paper 120gsm


120gsm

£ 8.50
£ 10.00
£ 13.50
£  PoA
PoA = Price on application
We offer a discount for multiple copies of the same print. Contact us for an estimate.